[Para leer en español, click acá]
The massive influx of Venezuelans is an undeniable reality. And even though Venezuelan restaurants in Buenos Aires have existed for some time, now more than ever the Caribbean country is really making a statement in the Argentinian capital. Competition also encourages better-quality, more authentic ingredients and flavours.
Here's a short list of hints, crafted by a Venezuelan expat living in Buenos Aires. If I'm missing something, please forgive me. There's so much to try and only one human, mortal belly ):
Starting with Guaica
I recommend this hole-in-the-wall with my eyes closed because the food is just excellent. High quality Venezuelan food, but still realistic and authentic. Their arepas are tasty and juicy. Lunch formulas follow the Venezuelan classic: "sopa + seco + jugo" which translates as "soup+main dish+juice". Our number one recommended dish here is the traditional PABELLÓN: rice + black beans + fried plantain + shredded meat.
Moving on to arepas
Wherever you are in the world, you probably know what arepas are by now. There are many good arepas in Buenos Aires at this point (including those you cook at home with other Venezuelan expat friends). But I can say my favorites are from Guaica (above) and Mestizos, a place that's actually owned by Guaica's owner's brother. So it's all in the family.
Mestizos is small and dark; not at all like their big, fat, juicy, shiny arepas. If you're new at this, you could start by the Arepa de Pabellón, which is a Venezuelan pabellón stuffed inside an arepa (shredded meat, black beans, sweet fried plantain slices and white cheese). Or you could jump to my favorite arepa in the World: "Reina Pepiá" with chicken and avocado. Here's a small guide to Venezuelan Arepas if you need it (couldn't find the author)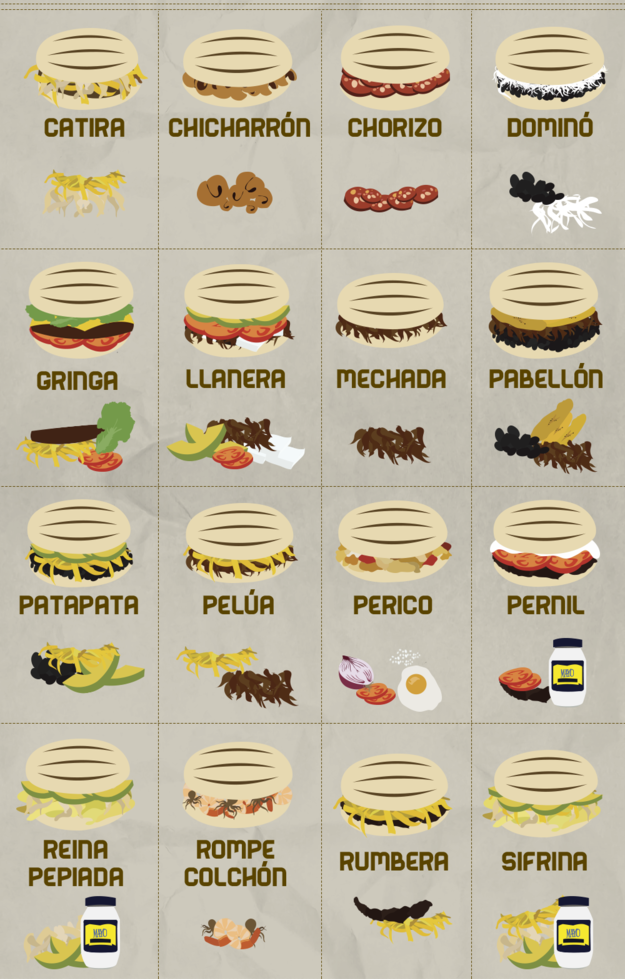 Empanadas
Venezuelan empanadas are always fried and made of ground maize flour just as arepas. In Buenos Aires, La Carbonera specializes in the field. You get the classics like chicken, meat or cheese empanada; or more regional flavors like empanada de cazón (school shark meat), very popular in the well-known Caribbean island of Margarita.
Tequeños, your new Venezuelan BFF
Tequeños are delicious cheese sticks (fried, breaded and filled with Venezuelan white cheese); extremely popular at parties and any form of celebration. You will find them in any of the places mentioned above, or you can get them delivered to your door by TequePops, arguably the best in Buenos Aires.
Ver esta publicación en Instagram
Extreme Venezuelan cravings
Venezuelans are experts in the art of greasy, unhealthy, almost obscene street food. So if this is your kind of guilty pleasure, then go try Venezuelan-style burgers, hot-dogs and sandwiches at Panachef. A must-try there is "Patacón maracucho" a specialty from my hometown: fried plantain sandwich with cheese, tomato, bacon, eggs, shredded meat, sweet fried plantain slices and a LOT of different sauces.
Venezuelan Snacks
Starting with my beloved Pirulín (rolled thin sticks filled with hazelnuts and chocolate – someone told me they're sold as "pirucream" in the US), all the way to Platanitos (salty plantain chips), you can get many of the snacks from our Venezuelan childhood at Venestore. There's also a place called Waffles Pop with a good stack.
Ver esta publicación en Instagram
Venezuelan Coffee
Actually, there's no Venezuelan coffee in Buenos Aires. Imagine export challenges in Venezuela meeting import challenges in Argentina… it's hard to get those coffee beans here. However there are several specialty coffee shops owned by Venezuelan expats where you can get arepas or golfeados with your latte, for example: Serendipity, Hacienda and Algrano.